Crime Novels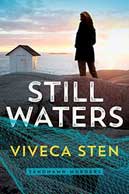 Still Waters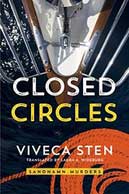 Closed Circles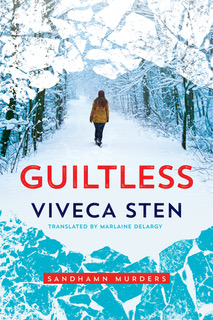 Guiltless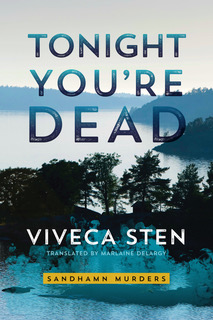 Tonight You're Dead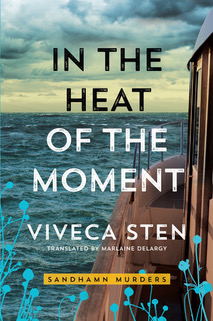 In the Heat of
the Moment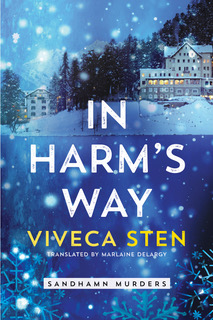 In Harm's Way
In Harm's Way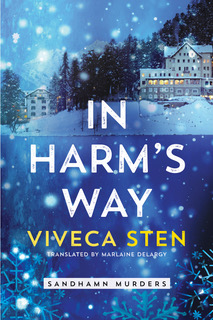 It is in the middle of winter on Sandhamn with a nasty blizzard sweeping through the empty streets. On Christmas Eve a scared and haunted woman takes the last boat out to the island. When her body is found frozen outside of Seglarhotellet on Boxing Day detective inspector Thomas Andreasson is called to the scene.

The victim is a well-known war correspondent with several threats to her life. Xenophobic tendencies and an exceptionally elaborate killer complicates the case further. And while Thomas is searching for the common denominator yet another murder occurs.

In the meantime, Thomas' childhood friend Nora Linde is wrestling with her own problems as her professional integrity is made vulnerable. Eventually she is forced to make a decision that will change her life forever. I farans riktning (In Harm's Way) is the sixth novel in the series about Thomas Andreasson and Nora Linde. It is a suspenseful story about false hope, repressed memories and unforgettable shame
"An unusually calculated murderer and Sten write deftly without airs."
Uppsala Nya Tidning

"There is something tickling and almost dreamy in reading about an icy winter and racism between bird-cherry tree and lilacs, almost as if the problems did not apply to us. But they do and they are the ones that Viveca Sten accurately puts her crime writing finger on."
Metro

"A suspenseful and easy to read novel about hidden shame and dashed hopes. Skaraborgs Allehanda Deckarhuset The story is suspenseful, on the verge of being terrifying, when the killer is about to be revealed. Vievca Sten has once again produced a quick story, a real page turner, and I can't wait for the next tale in the Sandhamn Murder series."
Värnamo Nyheter

"In Harm's Way is a very suspenseful novel and a clear cut sign that I need to keep my front door locked. The author brings up current societal topics and creates a story showing that no matter how hard you try and hide them, some things are bound to get out eventually".
Deckarhuset

"I like Vievca Sten!... her intrigue is good, using a female war correspondent who comes out to Sandhamn for Christmas and then gets murdered. The murderer looks through here secret material, at her teenage daughters house, and there are several scary scenes when the clueless girl is alone in the house."
Dagens Nyheter
In the Heat of the Moment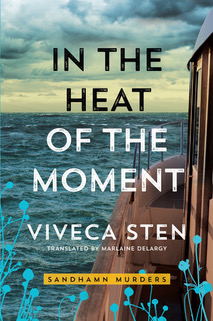 No 1 on the Swedish bestseller charts!
This exciting new installment of the Sandhamn-series is a thrilling but heart-chilling tale of lost teenagers during the traditional Midsummer festival celebrated in June.
A dead teenager is found on the island in the early hours of the shortest night of the year. Who is the victim and who is the murderer in the pale of the summer night?
In the Heat of the Moment was released in June 2012 and went straight to the No 1 spot on the Swedish best-selling charts – both as hard-cover, audio book and e-book.
"I stundens hetta" is an extremely profound novel. A crime novel, yet something else. It has so much more - a depth, a message and a story that will leave no one untouched, including the author. "I cried when I wrote certain parts", she said in an interview, and even if I didn' t cry when I read about the teenagers during the midsummer celebrations at Sandhamn, I will admit that my eyes misted over more than once. There, I´ve said it, even a critic can go soft."
VLT
"She describes completely brilliantly a world with lost and drunk teenagers and distant adults who couldn' t care less. It is spot-on, both with regard to the dialogue and the intrigue.
...She now belongs to the Swedish elite of crime writers, if she carries on like this she will very soon sit on its throne. This is both an important and an entertaining, thrilling book."
DAST Magazine
"A wonderful story about the Swedish midsummer, both its joy and its dark sides... It is a truly well-written, believable and entertaining crime novel by Viveca Sten"
Litteraturmagazinet
"After reading the fifth book, "I stundens hetta", I can only conclude that she just gets better and better. This is a page-turner, in my opinion. A perfect summer read!"
Norran
Tonight You're Dead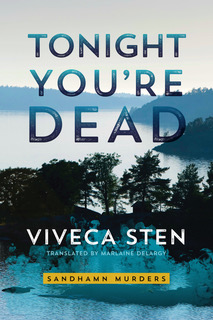 No 1 on the Swedish bestseller charts!
Nora and Thomas are back in this gripping tale of brotherhood and corruption. It seems like the best kept secrets are often the most destructive and that insanity, like a storm, brewes just beneath the surface.
A pageturner!
Allers
Viveca Sten belongs to the group of authors that develop and improve for each book /.../ Viveca Sten has turned into one of the best writers in this category ...
DAST Magazine
Viveca Sten blends drama with uncertainty, but at the same time there is an emotional layer that rests on top of the plot /.../ The novel is dramatically constructed and Viveca Sten constantly keeps the reader hooked...
Tidningen Kulturen
It's exciting and takes slightly unexpected twists and turns.

Skaraborgs Allehanda
Still Waters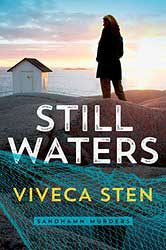 A compelling story about defending your heritage and refusing to compromise when the heart of your very existence is threatened
"It is a very promising debute, which allows Viveca Sten to join the ranks of the best of the crime novelists. Read and enjoy, and wait eagerly for her next book."
Dagbladet
"The book is filled with suspense from the first page to the last, a perfect summer's read."
Skaraborgs Allehanda
"Still waters is Viveca Sten's debut and she instantly challenges Camilla Läckberg...
Near the end, when she describes a fight for life and death, it is breathtakingly thrilling."
Hallandsposten
Closed Circles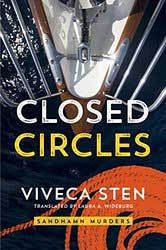 Power, prestige and ambition join in a foul game when the deputy chairman of the Royal Swedish Yachting Society is shot at the start of the largest regatta in Scandinavia
Dark secrets and boiling feelings with the rich and famous rise to the surface. Suspense, relationships and archipelago in a great blend."
Må Bra Magazine
"A truly enlightening and exciting murder mystery."
Swedish Radio, P4
"Cosy is a great way to describe Viveca Stens novels although she also knows how to increase the speed and really make the reader turn page after page."
Västerbottens-Kuriren
"A spectacular and puzzling murder with true Agatha Christie-feeling"
Skånska Dagbladet
Guiltless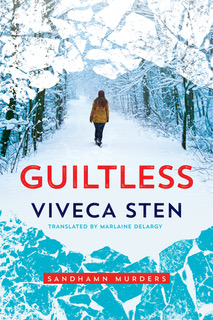 The story of a young boy growing up on Sandhamn during World War I. The evil he faces leads to disastrous consequences a hundred years later when a young girl disappears on the island
"I am more and more taken by Viveca Stens novels. The latest, "I grunden utan skuld" is the kind of book that makes you forget to cook, go to the loo or catch the bus."
Barometern
"Suspense & passion in a successful and touching blend."
Norra Västerbotten
"If you like [Camilla] Läckberg you should definitely read Sten – she is a much better writer.. I like her! "
Kristianstadsbladet
"I like Viveca Stens novels ... in contrast to many of her crime colleagues she is a skilled writer who knows the flow of a story."
Swedish Radio, P4 (4****/5)